Did you watch any sports this past weekend? If so, you may have noticed ads for what looks like a new brand of car, the American-sounding
Genesis
. Potentially you've seen one on the road, with that mysterious winged logo that kind of looks like Aston Martin's.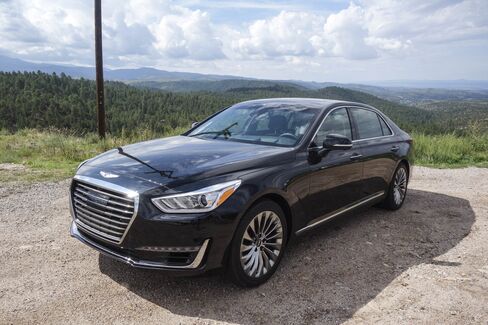 Even though it's produced by Hyundai, the new Genesis brand will be a separate beast entirely, much like Toyota's Lexus, or Honda's Acura. The price point is certainly different: The
Genesis
G90 starts at nearly $70,000. And when I tested one this month, I found that the level of luxury really did set it apart from its economy-minded siblings. I drove (and, even more crucially, rode in the backseat of) a Caspian black 2017
Genesis
G90 and found it to be of the caliber of rival cars from BMW, Mercedes, and Audi. I suspect others will feel the same, if they can get past the instinctual dealership-lot feeling that paying more means you get better quality.
Suited for City and Highway
I took this dark coach while on sojourn in New Mexico last week. A friend and I used it to explore the flea markets near Santa Fe before heading to Taos to hunt down turquoise (or at least some decent blue-corn enchiladas). We even ventured past the galleries onto gravel and dirt to visit a Pueblo township outside town.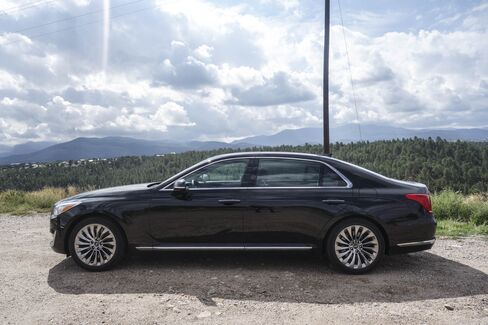 It's not the car you might hand-select for such a dusty locale; we didn't see another on the road, as you might expect, and parking attendants plied us with questions and compliments about its looks and heritage. With its straight roofline, long, narrow windows, and blade-like alloy rims, the G90 looks better suited to rolling through downtown Chicago, Dallas, or Manhattan.
But the G90 suited our purposes well. It's incredibly quiet and spacious; from behind the wheel on the high road to Taos, it felt like easing a just-arrived spaceship deep into a Martian desert.
Against the Others
It seems natural to compare it to the $72,520 Lexus LS, but the depth of its silent expanse makes it feel nearer to the segment-favorite $96,600 Mercedes-Benz S Class. At 365 horsepower and an expected 0-60 sprint of 5.5 seconds, it is not as powerful or fast as the Mercedes, but it falls in the middle of the power and speed ratings for Audi A8 L and BMW 7-Series. The distance between those fades even more when you consider that this car is more than $10,000 less expensive and just as nicely done in the rear cabin, where it counts. And at 124.4-inches long, the wheelbase in the G90 is just shorter than the S600 (124.6") and BMW 740i (126.4"), but it beats the Audi A8 by roughly 2 inches.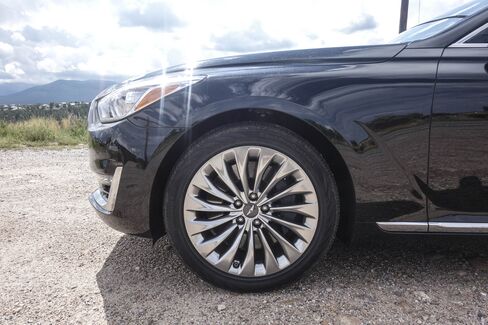 G90 comes with a twin-turbocharged V6, as in the one I drove ($69,050), or a 420-hp V8 ($70,650) version, if you really want to push the limit. Each version comes with a $2,500 optional all-wheel drive. It has an in-house eight-speed automatic transmission with rear-wheel drive and manual paddle shifting. There are four drive modes. We stayed in Sport mode most of the time because it felt best, and the suspension and brakes held up their share of the bargain. They are as smooth as any you'd feel in the more expensive Audi A8 or BMW 7 Series.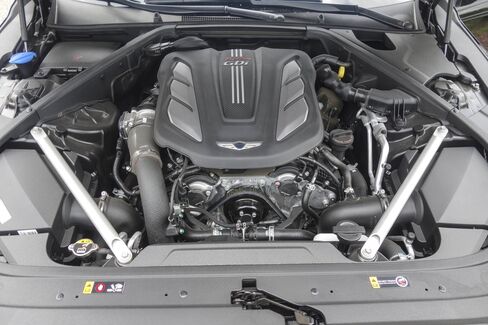 Upon acceleration, there is a slight pause between gas pedal decompression and take-off, but once the car awakes you'll find 60 miles per hour at the same pace you would elsewhere (5.1 seconds in that V8 version). The handling, too, is as smooth as the silky transmission, with a feel on the steering wheel that is precise but not overly tight. At speed—and felt from the back seat—the G90 becomes an airliner: We soared our way through the pueblos. Where the Cadillac CT6 could pose as a sports sedan, this is a proper town car, nothing less.
Reserved but Memorable
You'd never mistake the G90 for Cadillac's flashy sedan, but you could be forgiven for mistaking it for an A7 (that big front grille) or an S-Class (from the long, clean sides). It looks simultaneously unremarkable but interesting—nondescript enough to elicit the question, "What's that?"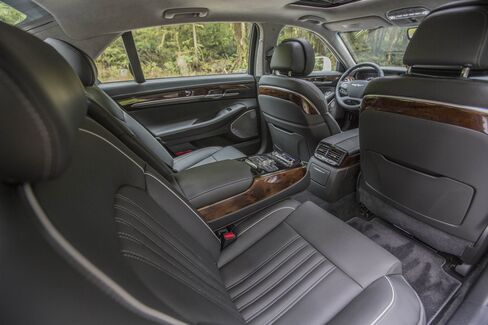 The
Genesis
logo always grabs attention, too, because it is familiar-looking but totally generic, like a symbol you'd make up for a car brand in a movie about the near future. One parking attendant saw the wings on the nose and suggested it was Bentley, though that is no near-comparison.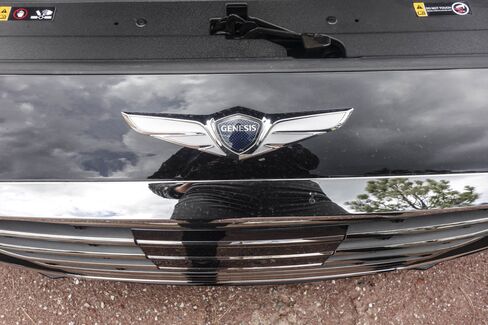 This is not to say that it looks boring. Its bi-xenon, high-intensity headlights, LED daytime running, and ambient-lit mirrors come standard; it has the low slung body of the Merc and slight rear angles of a BMW. The effect is politesse on wheels: quiet, efficient, and well-in-hand.
The interior holds up well vs. competitors, with real polished wood, aluminum, and stainless-steel trims. This is where the G90 shows its best side. Once I had made my friend drive me around town while I sat in the back, feeling like a raja, I couldn't bring myself to switch back. The silence of the ride is amplified in the rear, which swaddled me like an infant. The leather is supple and well-sewn, the window shades are power automated and feel blessedly private, and the space afforded me enough room to stretch my legs out flat. The controls in the center and side of the rear even allowed me to shift the front passenger seat forward without stretching.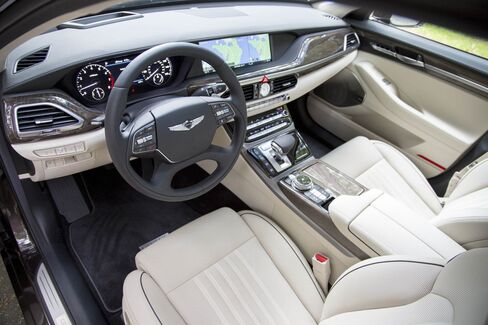 The 12.3-inch infotainment touchscreen, heads-up display, heated front and rear seats, and adaptive cruise control all come standard. In fact, hardly any additional options are offered; everything you need comes included. Two of my favorite standard features were the crisp heads-up display perfectly positioned in front of my eyes while driving and the extensive cornering cameras that had the resolution clarity of an apostle. They came in handy equally well as we cruised at 80mph toward Taos and as we backed out of tiny gravel lots at a Japanese bathhouse that springs up like an oasis in the hills outside Santa Fe.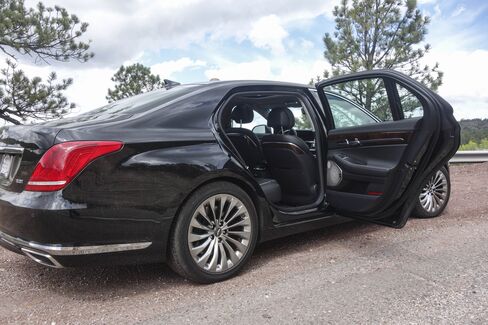 Fuel efficiency on the G90 is slightly less impressive than on its competitors—24 miles per gallon on the highway compared to the A8's 29mpg and the 740's 28mpg—but that's more of a consideration if you hit the highway every day than if you're just being driven around town, for which the G90 is ideally suited.
The bottom line is that
Genesis
has come strongly out of the gate with this flagship sedan. Company executives have promised to introduce four more additional models by 2021. If this one is any indication, they're off to a good start.